The chief executive officer (CEO) is the highest-ranked professional in a business enterprise, having multiple responsibilities. The CEO is accounted for strategic planning, implementing, and integrating the strategic direction of a business enterprise. The CEO is the person behind the company's culture, values, ethics and behaviour to the stakeholders and customers. The CEO is also responsible for building an executive leadership team and fund allocation to match the company's targets, goals and priorities. What more, some CEOs have even more on their plate, when it comes to start-ups and MSE business enterprises.
Analytics Insight has compiled a list of the "10 Best Artificial Intelligence CEOs" to Follow based on a number of factors, including the company's market share, growth trajectory and the impact each individual has created on making AI a household name in one of the most competitive global software markets. Some of the renowned Artificial Intelligence (AI) CEOs have been founders of trendsetting companies while others have risen through the ranks to lead the AI-driven business enterprises of today.  The dominant factor is the rich experience and the diversity of skills that these CEOs bring to the table, each with a unique perspective that allows their company to thrive.
Robert (Bob) H. Swan was appointed as the interim CEO of Intel Corporation on June 21, 2018. At Intel, prior to that, Robert held the roles of EVP and CFO at Intel since October 2016. Before joining Intel, Robert was working with the global growth equity investment firm General Atlantic LLC, as an operating partner which he joined in 2015.  Earlier in his career, Robert has spent nine years as CFO of eBay Inc. and CEO at Electronic Data Systems Corp. and TRW Inc. He has held the roles of CFO, COO and CEO of Webvan Group Inc. Robert began his career in 1985 with General Electric, where he held senior finance roles during his 15-year tenure. Robert holds a bachelor's degree in business administration from the University of Buffalo and an MBA degree from Binghamton University
2. Jen-Hsun "Jensen" Huang, Nvidia
Born in Taiwan, Jen-Hsun co-founded the graphics-processor company Nvidia and has served as its president and CEO since its inception. Before moving to California, Huang graduated from Oregon State University and completed his master's degree from the Stanford University in 1992. After finishing college Huang had his professional stint as a Director at the LSI Logic and a microprocessor designer at Advanced Micro Devices, Inc. (AMD). On his 30th birthday, 17th Feb 1993 Huang co-founded Nvidia and has been its president and CEO from the last 25 years. In 2018, Forbes listed Huang at #321 in its annual listing of The World's Billionaires list.
DeepMind Technologies is headed by Demis Hassabis, a British national who is a neuroscientist, artificial intelligence researcher, entrepreneur, video game designer and world-class games player. Demis graduated from the Cambridge University with a double first in Computer Science. He later founded the pioneering videogames enterprise Elixir Studios which has produced award-winning games for global publishers. After been a leader and mentor of start-ups with a decade of experience and completed his Ph.D. in cognitive neuroscience at the University College London (UCL). His Ph.D. was followed by postdocs at MIT and Harvard before he co-founded DeepMind Technologies. Demis is a jack of all trades and master of all. Demis Hassabis is a 5-time World Games Champion, the recipient of the Royal Society's Mullard Award, a Fellow of the Royal Society of Arts and has been awarded the Royal Academy of Engineering's Silver Medal.
4. Jeffrey Preston Bezos, Amazon
Jeff Bezos is a technology entrepreneur, philanthropist, investor, and the founder, chairman, and CEO of the world's largest online retailer Amazon. In 1986, Jeff graduated from the Princeton University with a 4.2-grade point average in Bachelor of Science degrees in electrical engineering and computer science. While in high school, Jeff Bezos worked at the McDonald's as a short-order line cook during the breakfast shift. In 2000, Jeff Bezos founded the aerospace company Blue Origin which took its test flight successfully and first reached space in 2015.  Further expanding his business interests, Jeff purchased The Washington Post in 2013 for US$250 million in cash. Forbes listed Jeff Bezos as the first centi-billionaire on its Forbes wealth index. Jeff Bezos was designated the "wealthiest person in modern history" after his net worth increased to $150 billion in July 2018.
Marc Benioff, the founder, chairman and CEO of Salesforce is an American internet entrepreneur. In 1982 Marc graduated from the Burlingame High School and received a Bachelor of Science in Business Administration in 1986 from the University of Southern California. As a student at the University of Southern California, Marc undertook internships as an assembly language programmer at the Macintosh division of Apple Computer and was thoroughly inspired by the company and its co-founder, Steve Jobs. Salesforce was founded in a rented San Francisco apartment in March 1999. Benioff is a noted philanthropist and established the "1-1-1 model," in 2000, where the business enterprise contributes 1% of the product, 1% of equity, and 1% of employee hours back to the communities it serves globally.
Shantanu Narayen is an Indian American national and the CEO of Adobe Systems. Additionally, Shantanu is the president of the board of the Adobe Foundation. Raised through the ranks, Shantanu had been the president and chief operating officer of Adobe Systems since 2005. Born to a Telugu speaking family in Hyderabad, Shantanu went to Hyderabad Public School and earned a bachelor's degree in electronics and communication engineering from University College of Engineering, Osmania University Hyderabad. Shantanu holds an MBA degree from the University of California, Berkeley, and a master's degree in computer science from the Bowling Green State University, Ohio. Shantanu's career started with Apple. And later he moved as the director of desktop and collaboration products for Silicon Graphics. Narayen joined Adobe in 1998 as an SVP of worldwide product research. He was promoted as EVP of worldwide products and appointed CEO of Adobe Systems in November 2007.
Satya Nadella is an Indian American national and the CEO of Microsoft which he took after being the EVP of Microsoft's cloud and enterprise group. At Microsoft's cloud and enterprise group, Satya was responsible for building and running Microsoft's computing platforms, developer tools and cloud computing services. Born in Hyderabad, Andhra Pradesh to IAS Father and homemaker mother, Nadella attended the Hyderabad Public School, Begumpet. Satya Nadella graduated in electrical engineering from the Manipal Institute of Technology in 1988 and subsequently went for an M.S. in computer science at the University of Wisconsin Milwaukee and later did an MBA from the University of Chicago. In the professional front, Nadella worked at the Sun Microsystems as a member of its technology staff prior to joining Microsoft in 1992. At Microsoft, he has been credited for helping bring Microsoft's database, Windows Server and developer tools to its Azure cloud.
8. Sundar Pichai, Google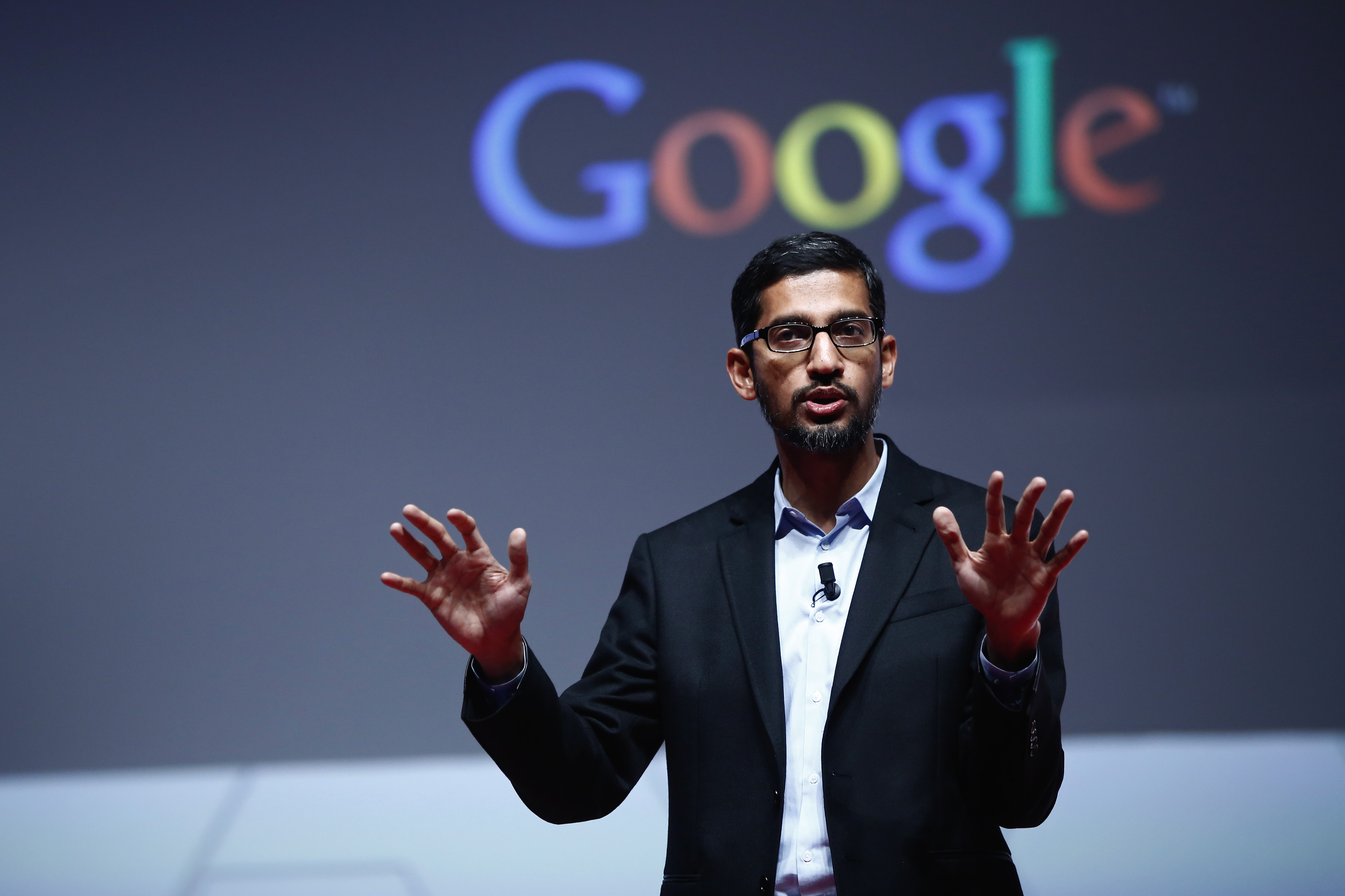 Pichai Sundararajan is an Indian American national and the CEO of Google Inc. Born in Madurai, Tamil Nadu, India to stenographer mother and electrical engineer father, Sundar grew up in a two-room apartment in Ashok Nagar, Chennai. Sundar completed schooling in Jawahar Vidyalaya Chennai and studied Class XII from Vana Vani School at IIT Madras. Pichai earned his Metallurgical Engineering graduation degree from IIT Kharagpur. The Google CEO holds an M.S. from Stanford University in Material Sciences and Engineering, and an MBA from the Wharton School of the University of Pennsylvania. At the Wharton school, Sundar Pichai was named a Siebel Scholar and a Palmer Scholar. Pichai joined Google back in 2004 and led the product management and innovation efforts for Google Chrome and Chrome OS. At Google, Sundar Pichai was largely responsible for Google Drive and the development of applications like Gmail and Google Maps.
9. Mark Elliot Zuckerberg, Facebook
Mark Elliot Zuckerberg is the co-founder, chairman and CEO of the popular social media webpage Facebook. Born to psychiatrist mother and dentist father Zuckerberg attended the Harvard University, and co-launched Facebook from his dormitory room on February 4, 2004. Zuckerberg was taught Atari BASIC Programming in the 1990s by his father, and later by David Newman who taught Zuckerberg privately at his home. At Harvard, Zuckerberg created a program Facemash that allowed students to vote for the best-looking person from a group of photos. Arie Hasit, Zuckerberg's roommate said that Facemash was built for fun. Arie Hasit adds that at Harvard, students had books called Face Books, containing the names and pictures of students who lived in the Harvard student dorms. Students logged into the site had to vote who was "hotter" and accordingly the ranking would be created. This was later called what we know as Facebook. To complete the Facebook project, Zuckerberg dropped out of Harvard in his sophomore and on May 28, 2017, he received an honorary degree from Harvard.
Darktrace is a Cambridge-based global leader of AI cyber defence and is headed by Nicole Eagan. Nicole's extensive career spans 25 years and she has had professional stints with Oracle, Quest, HP among others. Nicole Eagan was named 'AI Leader of the Year' in 2017, and she has introduced disruptive machine learning to enterprises. Darktrace is valued at $1.25 billion and counts Insight, KKR, Summit Partners, and Samsung among its major investors.